Late last year Microsoft released the latest version of their SharePoint Server product for installation on-premises, SharePoint Server Subscription Edition (SPSE). With the growing popularity of Office 365 and SharePoint Online, recent SharePoint Server releases have had little fanfare, but are important for companies choosing to stay on-premises.
What is SharePoint Server Subscription Edition?
Per Microsoft, "SharePoint Server Subscription Edition represents the next step in the SharePoint Server journey emphasizing the specific needs of our on-premises customers and includes new features to help simplify management, improve your security posture, and streamline your upgrade from earlier versions of SharePoint Server."
It is the latest release after SharePoint Server 2019. If you are already on SP2019, SharePoint Server Subscription Edition offers an incremental improvement in the Modern user experience and some deployment, administration, and security updates that may be important to your IT team but is not a major redevelopment of the platform.
A detailed list of improvements is available at New and improved features in SharePoint Server Subscription Edition – SharePoint Server | Microsoft Docs
Microsoft has continued with their "cloud-first" strategy for new feature development and has included features in SPSE, like bulk file download, that has been available in Office 365 the last couple of years.
Classic experience (also known as SharePoint 2013 mode), InfoPath Forms Services, SharePoint 2013 workflows, and SharePoint 2010 workflows are still supported by SPSE, although SharePoint 2010 workflows are labeled as deprecated and included only for backward compatibility.
Microsoft Teams, Power Apps, and Power Automate continue to be cloud-only offerings and are not available for on-premises deployment in SPSE.
Why are companies staying on SharePoint Server vs. Office 365?
While Office 365 has taken the lead for SharePoint site hosting, there are still reasons why companies are keeping their SharePoint sites on-premises.
Office 365 is not available. Before any SharePoint sites can be migrated to Office 365, a company needs to purchase Office 365, provision the tenant, plan and synchronize user identities, and assign licenses to users. This is not a trivial effort.
Content owners have determined the content is not appropriate for cloud storage. While Microsoft has gone to a lot of effort to make Office 365 a secure platform (see Cloud Data Integrity at its Finest | Microsoft Trust Center for more details), this is not sufficient in all use cases.
SharePoint has been enhanced with custom or 3rd party add-ons that are expensive and disruptive to redevelop for a cloud paradigm. This can include server-side code, integrations with other on-premises data sources and APIs, etc.
Features are in use that are no longer available, or were never available, in Office 365. For example, SharePoint 2010 workflows can not be migrated to or run in SharePoint Online, and Office 365 doesn't offer anonymous access or custom authentication providers common in extranet and internet portal scenarios.
What should we do?
Your path forward should be based on the version of SharePoint Server you're using currently.  Many of the companies I talk to today didn't see a benefit to upgrading to SharePoint 2016 or 2019, but now need to contend with SharePoint, SQL Server, and Windows Server end-of-life deadlines.  Check out Search Product and Services Lifecycle Information – Microsoft Lifecycle | Microsoft Docs for more information about the lifecycle of your installed products.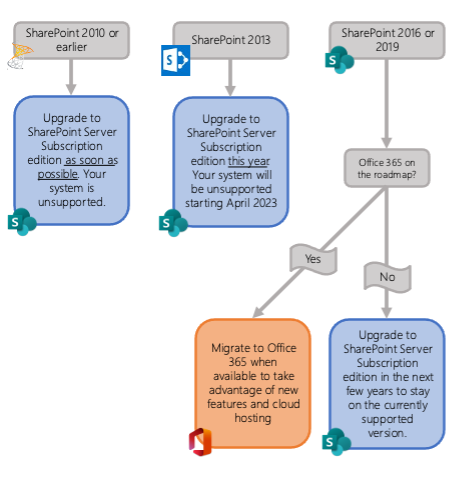 Why upgrade to SharePoint Server Subscription Edition at all if we're already on SharePoint 2019 and the improvements are minor?
In general, Microsoft supports direct upgrade only to the next version of SharePoint Server.  For example, you can not upgrade a SharePoint 2013 site directly to SharePoint 2019 and skip SharePoint 2016.  Companies who took a wait-and-see approach with their SharePoint 2013 installations now need a 3rd party product to upgrade.
For the first time ever, Microsoft is supporting upgrades from both SharePoint 2016 and SharePoint 2019 to SPSE, allowing customers to skip a version.  But there is no guarantee version skipping will be supported with any future release.  For the best stability and security, you should upgrade before the end of mainstream support of SharePoint 2019.
If you are in the process of planning an upgrade to SharePoint Server Subscription Edition (SPSE) or SharePoint Online in Microsft 365 in the near future, or ready to discuss migration services, we can help.  Compass365 offers a full complement of migration services from planning through project delivery. Learn more here.
Compass365, a Microsoft Gold Partner, delivers SharePoint, Microsoft Teams, and Power Platform solutions that help IT and Business leaders improve the way their organizations operate and how their employees work.  Reach out to Cathy Ashbaugh, cashbaugh@compass365.com to discuss your Microsoft collaboration initiatives and needs for 2022.