Every Body Texas, a nonprofit organization dedicated to ensuring every person in Texas can access safe, unbiased, high-quality sexual and reproductive healthcare regardless of circumstances, has partnered with Compass365 since early 2020 to implement a series of innovations that allow the organization to do more work, more efficiently on a limited budget. As a statewide Texas Title X grantee, Every Body Texas distributes millions of dollars per year to a network of 35 healthcare agencies operating more than 170 clinics across the state. This funding is critical to keeping clinics open and delivering much-needed care to more than 150,000 Texans every year.
This case study is focused on how Matthew Thompson, Director of Financial Contract Compliance and Co-CEO of the organization, and Qais Gharib, Practice Manager for Compass365 Microsoft Business Applications, along with their teams, collaborated to bring these innovations to life.  Matthew, a Lean Six Sigma Green Belt and natural innovator, recognized a number of inefficient business processes and envisioned "a better way". With open communication, understanding, and strong knowledge of Power Platform's capabilities, Qais was able to translate Matthew's vision into a Power Platform architecture and design that the Compass team implemented and has been rolled out to the subrecipients in the network. The Agency Portal, as it is called, provides Every Body Texas and their subrecipients a better, easier, faster way to tackle the multitude of documents, approvals, and signatures required when dispersing and tracking Federal funds.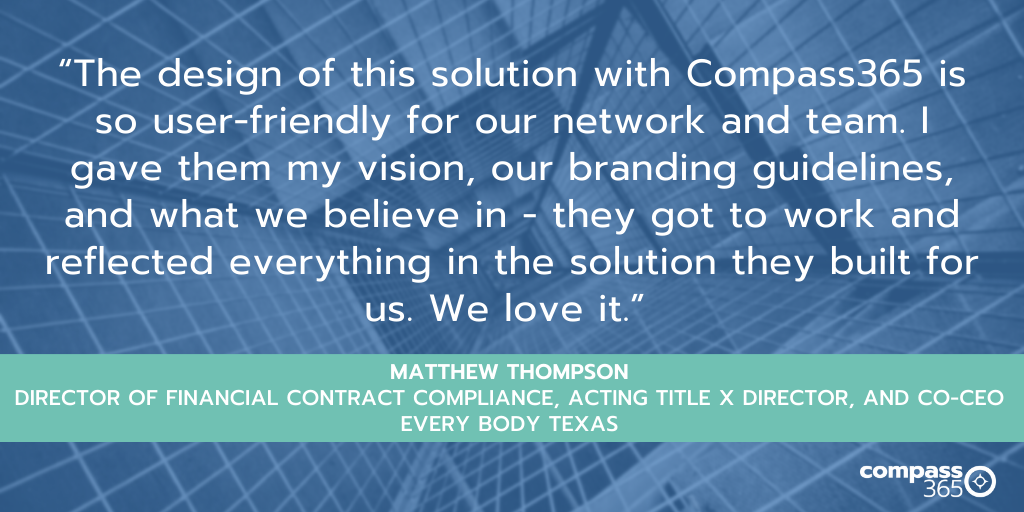 The technology components of the Agency Portal include Microsoft Power Apps, Power Automate, Dataverse, SharePoint Online and Microsoft 365. The result has been a resounding success and phase 2 is currently underway to incorporate reporting, program compliance and other process improvements. Read more here:
Interested in learning more about how the team at Compass365 can bring your innovative ideas to life using Microsoft Power Platform?
We'd love to help you bring your vision to life using the tools available in Microsoft Platform. For more information visit our Power Platform Services page or reach out directly to Cathy Ashbaugh, cashbaugh@compass365.com to arrange for a complimentary consultation.
Compass365, a Microsoft Gold Partner, delivers SharePoint, Microsoft Teams, and Power Platform solutions that help IT and Business leaders improve the way their organizations operate and how their employees work.