Seldom do we have a SharePoint project where a client gets everything they want in an out-of-the-box SharePoint intranet.  There is always a need for just a little something extra on each project.  In some cases, a client wishes that a standard web part would work in a slightly different way.  While in other cases, a client was hoping or expecting SharePoint had a web part that integrated automatically with one of their many cloud services.
We have implemented numerous small and large SharePoint customizations for various clients over the years.  Clients often have similar customization requests which allows our Intranet team to leverage previous work, saving our clients time and money.
Most recently we have had a couple of clients request the ability to display announcements in a slider or carousel format.  Along with that requirement is the desire to point that web part to an existing list and be able to set an expiration date on individual announcements.
With those requirements in mind, we set out to create a simple web part called the Announcements Carousel by Compass365 and release it in Microsoft's App Source for anyone to use – free with no strings attached.
The Announcements Carousel by Compass365 configuration options include:
Web Part Title – Provide a name for the web part section.
Announcements List – Connect to any list or document library on the current site.
Title Column – Select a Single line of text column that contains the title of the announcements.
Body Column – Select a Multiple lines of text column that contains the body of the announcements.
Expiration Date Column – Select a Date and time column that indicates when the announcements should be expired and no longer displayed.
Slide Interval – Select how many seconds each announcement should display (1 to 30 seconds).
Number of Announcements to Show – Select how many announcements to cycle through (up to 30 announcements).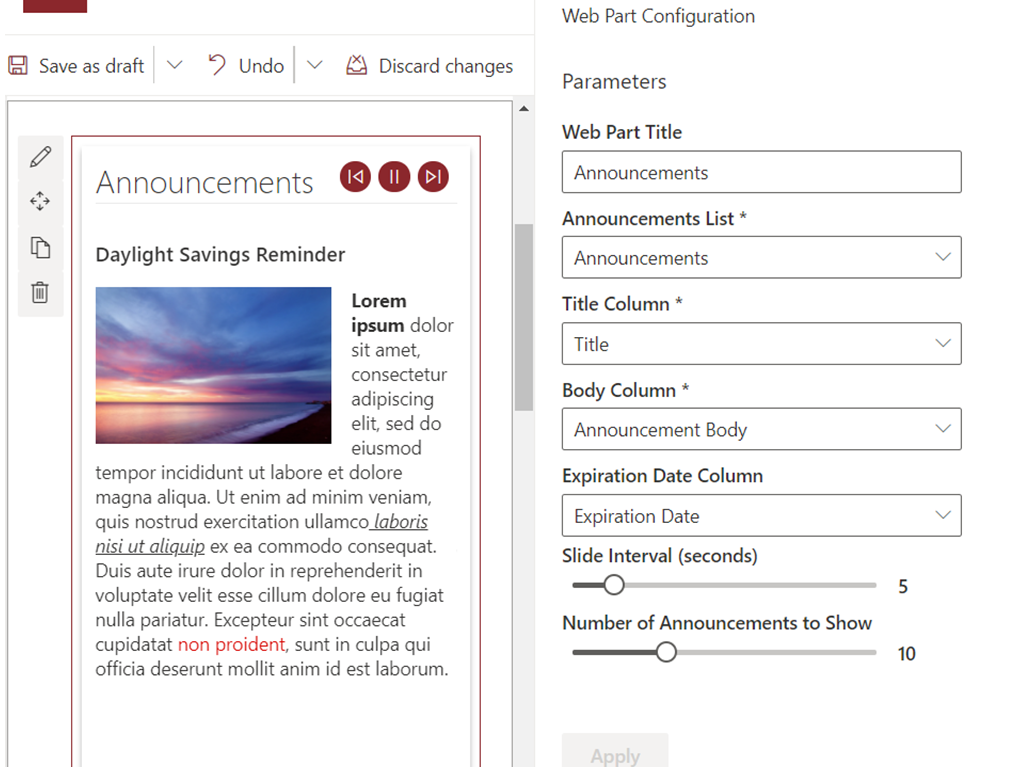 While still in review, our new web part will be available this fall.  Check back periodically for more details and a link to the web part.
When it becomes available, we invite you to give it a test drive and let us know if it is helpful to your organization and what we can do to improve the web part.  We look forward to your feedback!