Migrating to SharePoint Online
With SharePoint Server 2013 reaching end-of-life in early 2023, we're working with a large number of organizations, from SMBs through F-500, to plan and execute their migrations into SharePoint Online.  Most often, we are moving clients directly to the modern experience in SharePoint to take full advantage of SharePoint Online capabilities but also to replace a number of widely used technologies no longer supported in new SharePoint Online migrations (think Designer 2010/2013 workflows and InfoPath forms, for instance) and are slated for retirement for all existing SPO deployments over the next few years.
The Case for Modernization
While today's Business and IT Leaders are more likely to modernize as they migrate, organizations that have migrated to SharePoint Online over the past 5-6 years may still have a hefty amount of SharePoint classic views, pages, lists, libraries, and web parts in use.  Often, we see a mix of SharePoint classic and modern experiences in existence for SPO migrations done in past years which can cause confusion for the user and negatively affect adoption.  Why settle for the same old SharePoint when a better experience is available?
The modern experience in Microsoft SharePoint is designed to be compelling, flexible, mobile-ready, and perform better. The improvements in the modern experience in SharePoint Online include:
A flexible, easier-to-maintain architecture built around hub sites and site collections
Increased options for navigation experiences based on your chosen framework
A set of modern, responsive site templates and themes
Communication sites to create beautiful, dynamic sites and pages that are mobile ready
Expanded search options with both classic SharePoint Search and Microsoft Search
Additional sharing and permissions options with Microsoft 365 groups
Improved performance in the platform and individual components such as lists and libraries
Enhanced multilingual support for your intranet content
Pro-Tip: Modernize In-Place
Once you have made the decision to convert your SharePoint sites from classic to modern, the least intensive and recommended approach is to modernize in-place. Microsoft Docs provides detailed guidance on transforming an existing classic site into a modern site.
Factors to Consider
As organizations plan and execute migrations into SharePoint Online from SharePoint 2010, 2013, or 2016 or move from the classic to the modern experience in SharePoint Online, there are a number of factors to consider.  Below you'll find some of our latest posts around SharePoint migration and modernization.
SharePoint Migration Case Study
Algood Food Company: Getting More Value from Cloud Migration and Automation
Learn how the Compass365 team worked with Algood Food Company to migrate from a legacy SharePoint 2010 environment and associated workflows to SharePoint Online with a Power Platform solution that integrates with Dynamics 365.
Need assistance with your SharePoint migration or modernization efforts?
As always, the Compass365 team is here to assist you in improving the way your organization operates and your employees work with SharePoint and the Microsoft 365 platform. If you have a vision for driving improvements and would like to discuss your ideas with our team of Microsoft consultants, please reach out at any time to discuss Compass365's SharePoint Migration Services.  We are happy to help. Please feel free to reach out directly to Cathy Ashbaugh, cashbaugh@compass365.com to arrange for a complimentary consultation.
Compass365, a Microsoft Gold Partner, delivers SharePoint, Microsoft Teams, and Power Platform solutions that help IT and Business leaders improve the way their organizations operate and how their employees work.
The Compass Guide: SharePoint 2013 to SharePoint Online Migrations
SharePoint 2013 is officially out of support in April 2023.
Download The Compass Guide: SharePoint 2013 to SharePoint Online Migrations eBook to start your migration planning today.
We'll cover:
Risks associated with running unsupported
Benefits of modernization with SharePoint Online
Key considerations before you get started
The Compass365 SharePoint migration methodology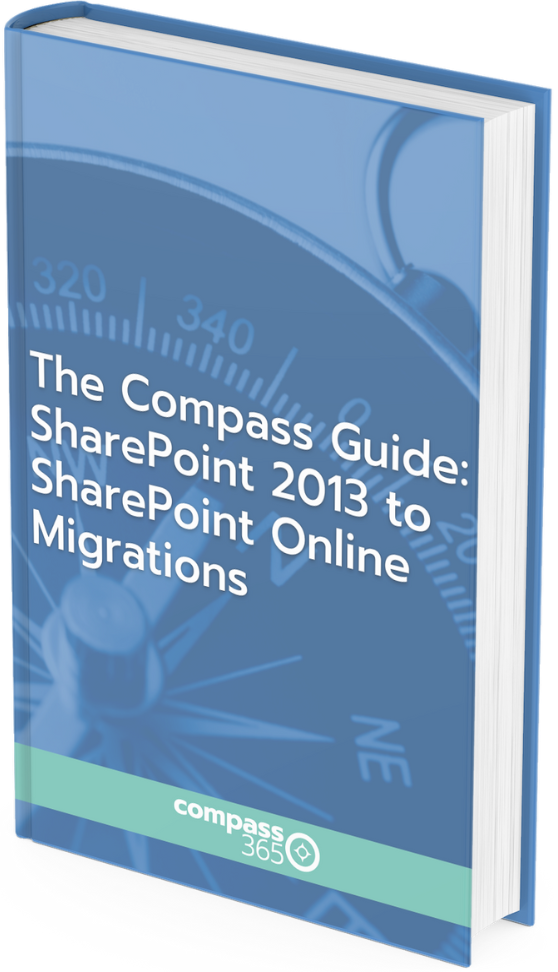 Subscribe
Join over 3,000 business and IT professionals who receive our monthly newsletter with the latest Microsoft 365 tips, news, and updates.