Like many of you, I was apprehensive about attending the in-person M365 Collaboration Conference in Las Vegas this past December.  Thoughts like, "Is it too early? Will it be safe?  Will it be valuable?" were running through my head.  Many of my clients expressed the same concerns personally or were restricted from business travel by their companies. Ultimately, I decided to attend the conference, along with 3 of my colleagues from Compass365 and I am really glad that I did. After almost 2 years of working and attending events remotely, it was invigorating to see and talk with like-minded professionals who are passionate about enabling collaboration using SharePoint, Teams, and Power Platform and truly value community and relationships.  Here's my experience.
First off, I would say that the event was well-organized, and protocols were in place to ensure that attendees were vaccinated or tested upon entry. We also wore masks in all sessions, exhibit halls, and throughout the conference area which was held at the MGM Grand in Las Vegas (The 2022 M365 Collaboration Conference is already scheduled for April 2022).
Although a smaller crowd than in the past, folks were enthusiastic in the keynotes and sessions, engaging with vendors in the exhibit hall, and genuinely excited to see old friends, meet new ones, and exchange ideas, knowledge, and passion.  It was a warm and welcoming dose of Community after 18+ long months of virtual events, screen fatigue, and isolation.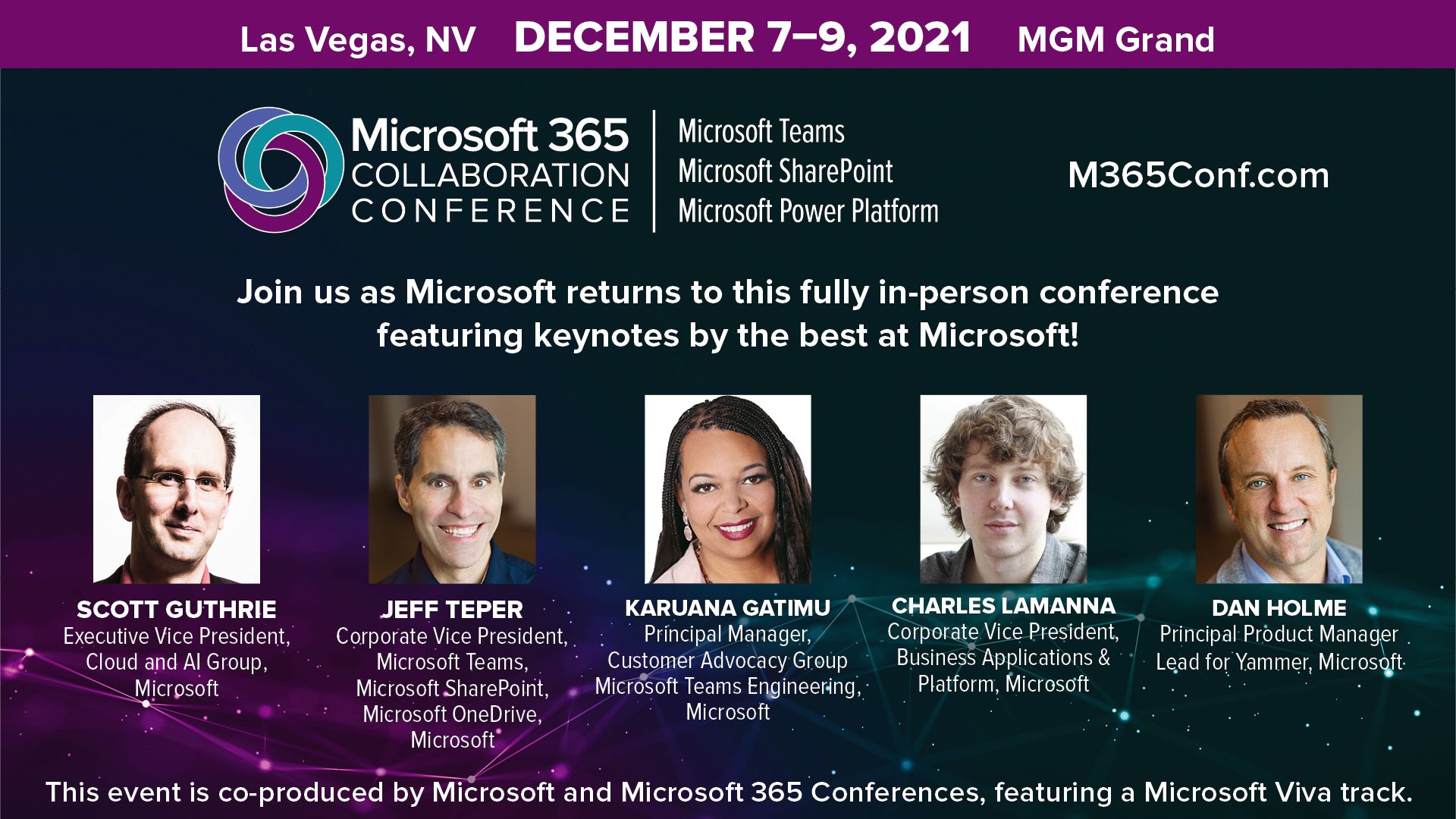 From the time my Compass365 colleagues and I arrived at the MGM Grand, we were surrounded by friends and welcomed and invited to join in on events with an inclusive attitude. We had a few clients attend the events and they were treated as part of the group which included fellow Microsoft Partners, MVPs, vendors, Microsoft staff (including Jeff Teper and some of his staff), friends, and family. Coincidentally, the rodeo was being held at the same time. Throughout various venues and restaurants, you could see a mix of groups with conference lanyards engaged in conversation and groups with cowboy hats and boots cheering on the rodeo events being broadcast on the TV's like I would watch a football game. It was different, yet fun, energetic and enlivening.
A special shout out to the Southern California M365 Community members who were instrumental in helping to produce the event. They hosted gatherings and created a very inclusive space for folks to meet and commune about all things SharePoint, Teams, and Power Platform, but also to catch up on careers, health and family. As volunteers, they put in the time, energy, and funding at times to help make this an amazing community. You are appreciated!
If you haven't had the opportunity to experience the M365 Collab Community (formerly SharePoint Community), you may be missing out on the warmest community of professionals dedicated to sharing, exchanging, helping, supporting, and engaging with others. The amount of volunteer time these folks put in for the love of the game is astonishing. Always willing to lend a hand, speak at events, and help others to gain proficiency in SharePoint, Teams, and Power Platform. As an organization, Compass365 sponsors and speaks at our local (formerly) SharePoint Saturdays and M365 Collab Fridays. Finding local user groups, meet-ups, and events in your area is a great place to start.
As the December conference ended, folks were already confirming their interest in attending the next M365 Conference, scheduled for April 2022. View more and register at M365Conf.com My takeaway is: Go for the knowledge and stay for the community and relationships you will create and develop year after year. Here's to more opportunities to engage with our peers in 2022 in a safe, responsible, and hopefully post-COVID manner. Remember what that was like?
Compass365, a Microsoft Gold Partner, delivers SharePoint, Microsoft Teams, and Power Platform solutions that help IT and Business leaders improve the way their organizations operate and how their employees work. Reach out to Cathy Ashbaugh, cashbaugh@compass365.com to discuss your Microsoft collaboration initiatives and needs for 2022.