You may have noticed a new set of icons along the left-hand side of your SharePoint Online sites recently. This feature is called the SharePoint App Bar and it's a new release from Microsoft designed to help users find important and relevant content and resources from across Microsoft 365.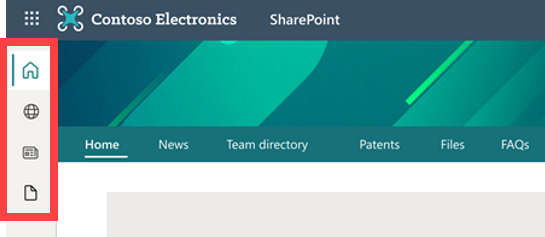 Not seeing the SharePoint App Bar?
There are two potential reasons:
Your SharePoint sites are using the Classic interface. The SharePoint App Bar is only available on modern team and communication sites. To take advantage of this new feature and many others you'll need to modernize your site. See Modernize your classic SharePoint sites for guidance or reach out to your resident SharePoint guru.
Your company has temporarily disabled the new feature and it won't be available until re-enabled or Microsoft forces it on at the end of October.
Want to make the SharePoint App Bar more useful to your organization?
Two of the features in the SharePoint App Bar, Sites and Files, require no configuration and immediately show relevant content to users if they're participating in any SharePoint sites, Teams or OneDrive for Business files. The content will look familiar to anyone who's used the SharePoint mobile app or the SharePoint start page.
The other two features, Global Navigation and News, require your organization to do some planning and configuration to be really useful.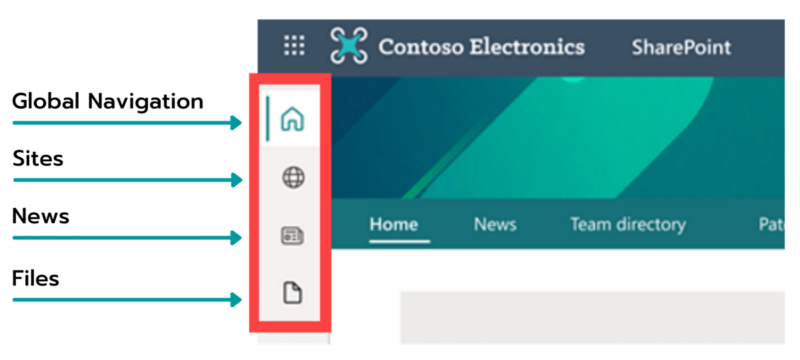 ---
SharePoint App Bar feature: Global Navigation
Global Navigation links to the default SharePoint start page on your Office 365 tenant. This page has a similar rollup of the News and SharePoint sites you're participating in. To make it more useful to your organization, update the Global Navigation settings to link to your Home site. Per Microsoft:
A home site is a SharePoint communication site that you create and set as the top landing page for all users in your intranet. It brings together news, events, embedded video and conversations, and other resources to deliver an engaging experience that reflects your organization's voice, priorities, and brand.
Building your Home site may be a whole project, especially if you've been looking to replace an outdated intranet. Alternately, you can create a very basic site that hosts navigation links directing users to a non-SharePoint intranet portal.
SharePoint App Bar feature: News
News provides your users a quick way to catch up on news from all the sites they are participating in. It is going to be lackluster if no one is using the SharePoint News feature. Every modern SharePoint team and communication site, including the Home site, has the SharePoint News feature. Encourage site owners and members to create news articles here instead of emailing announcements and newsletters to the team.
Are you using Teams more than SharePoint these days?
It is still worth the effort to configure a SharePoint Home site and the Global Navigation in the SharePoint App Bar. Later this spring Microsoft will be rolling out Viva Connections. This feature brings the Global Navigation from the SharePoint App Bar and your SharePoint Home site or intranet navigation, into the Microsoft Teams user interface, pins it to the left rail, and incorporates the content in Teams search.
Helpful resources:
Looking to enhance your workplace collaboration with SharePoint, Microsoft Teams and OneDrive?
Our Workplace Collaboration Services are designed to address your organization's needs for collaboration. Compass365 will configure platforms to meet your needs and empower your users with training and support – all while ensuring your compliance and security requirements are met. Reach out to our team at any time to arrange a complimentary consultation.
Compass365, a Microsoft Gold Partner, delivers SharePoint, Microsoft Teams and Power Platform solutions that help IT and Business leaders improve the way their organizations operate and their employees work.