Transform Your Workplace with Microsoft 365
Our Workplace Collaboration Services for SharePoint, Microsoft Teams, and OneDrive are designed to address your organization's needs for collaboration, internally and externally, providing the right tool for any job. Compass365 will configure platforms to meet your needs and empower your users with training and support – all while ensuring your compliance and security requirements are met.
Our Workplace Collaboration Services include:
Workshops: Discover your group, department and/or organizational goals while you meet compliance requirements.
Demos and discussion: Learn about available tools and features: what to use when, and why.
Information governance: Recommendations to manage the creation, approval, and decommissioning lifecycles.
Organizational structure mapping: Deploy Microsoft Teams, SharePoint, OneDrive to address your unique way of working.
Standardization of patterns and practices: Templating, automation, and request approval process
Content migration: Moving content into new structures from legacy systems, or clean-up of existing sites.
Customizations and integrations: Connections to third party applications, workflows, and other business application processes.
Training, adoption, and best practices: Instructor-led training for end users and administrators.
Workplace Collaboration with SharePoint and Microsoft Teams
Our team of experts is ready to help you accelerate your digital transformation with Microsoft 365 collaboration tools.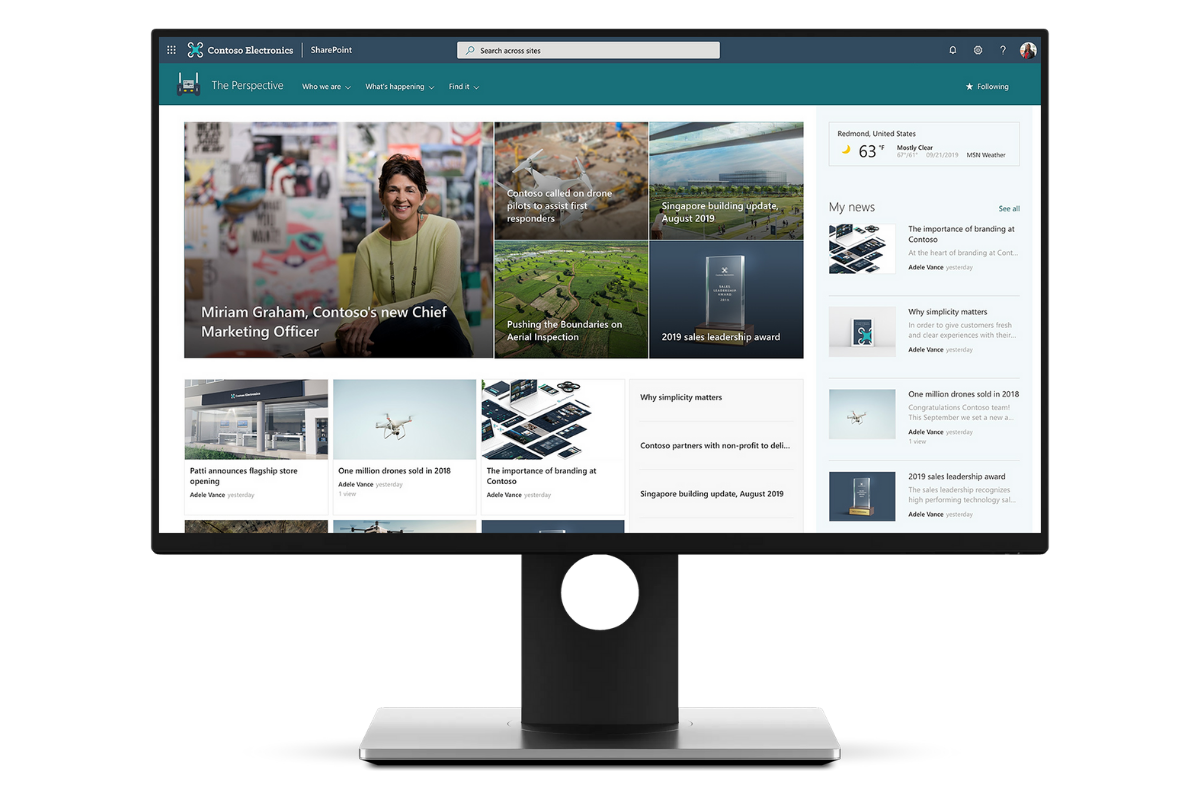 SharePoint
Easy access from anywhere – Store, share, and manage documents and other content safely and securely in SharePoint libraries that can be accessed from anywhere by any device.
Document management – Enable co-authoring and collaboration on documents while protecting with auditing, versioning, and permissions.
Communications – Portals to engage and inform your organization.
Knowledge management – Powerful search gives access to the resources your staff needs to be productive.
Business process transformation – Automate approvals with tools like SharePoint lists, forms, and workflow.
Microsoft Teams
Collaborate from anywhere – Get organized and improve collaboration with all your conversations, files, meetings, and apps in a shared workspace—wherever you work.
Stay Organized – Keep all your conversations, files, apps, and more in one place to seamlessly collaborate with your team members, whether they are inside or outside the organization.
Work together – Quickly access and collaborate within apps like Microsoft Word, Excel, and PowerPoint. Easily collaborate in real time across shared documents, calendars, and files.
Simplify Work – Access the apps you use every day right within Teams. Automate routine tasks and easily create new apps to meet the unique needs of your business.
Let the Microsoft experts at Compass365 guide you through these decisions and deploy solutions to improve the way your organization works.