Carlisle Companies Incorporated, www.carlisle.com, an F-600 building products company, has been partnering with Compass365 since 2014 to design and implement business process automation solutions that deliver real value to the organization.  In 2020, the Vendor Management Office envisioned a solution that automates the engagement request, tracking, and planning for vendor onboarding utilizing the tools available in Microsoft 365.  Compass365 delivered a solution based on SharePoint Online, Power Apps, and Power Automate that resulted in time and money savings as well as improved oversight of data. The success of the effort kicked off a series of continuing automations that continue to deliver value to the organization.  In this case study, we highlight the relationship between Carlisle and Compass365's Business Applications team, working together to automate a labor-intensive manual process of feeding data into Carlisle's line of business systems, including Oracle and SAP.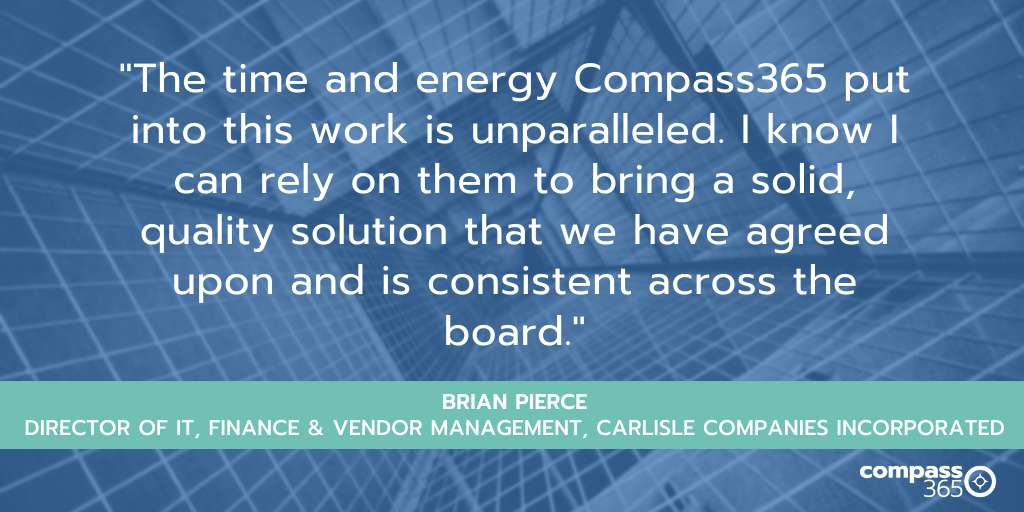 Read the details of how Compass365 and Carlisle teamed up to deliver a Power Platform solution that replaces a labor-intensive process, provides data oversight and eliminates additional end-user license costs. In the process, Compass365 has established an architecture, pattern, and process for continued automation, and to date, two additional process automation solutions have been delivered. Carlisle's vision, ideas, and drive for innovation along with Compass365's ability to translate that vision into a working solution that delivers value to the organization makes for a great partnership.
Interested in learning more about Compass365's Power Platform Application services?
We'd love to help you bring your vision to life using the tools available in Microsoft 365. For more information visit our Microsoft 365 Business Application Services page or reach out directly to Cathy Ashbaugh, cashbaugh@compass365.com to arrange for a complimentary consultation.
Compass365, a Microsoft Gold Partner, delivers SharePoint, Microsoft Teams, and Power Platform solutions that help IT and Business leaders improve the way their organizations operate and how their employees work.