Cal State LA Case Study
Cal State LA is the premier comprehensive public university in the heart of Los Angeles and is ranked number one in the United States for the upward mobility of its students.  Cal State LA, founded in 1947, is dedicated to engagement, service, and the public good, offering nationally recognized programs in science, the arts, business, criminal justice, engineering, nursing, education, and the humanities. Cal State LA has been a Compass365 client since 2017, and through multiple engagements over the past 5 years, we have created a synergy and strong partnership.
This past year, Compass365, along with our partners at Butterfly Tech, worked with the university to modernize the MyCalStateLA intranet portal accessed by tens of thousands of users daily. The Compass365 team worked with Alex Harwood, Director of IT Client Support Services to gather requirements, complete a Proof of Concept and implement a SharePoint Online-based intranet portal that provides a modern, equitable, and accessible experience.  In order for the transition to a SharePoint Online portal to be successful, the university identified the need to improve the Sign-On experience.  For this effort, we relied on our partners at Butterfly Tech who created a Microsoft-based Single Sign-On experience that leveraged the university's Microsoft technology stack, eliminated multiple logins for multiple systems, and provided a better user experience.  Cal State LA staff, Compass365, and Butterfly Tech worked in unison to ensure the project was delivered in record time – just three months for implementation – in order to meet the request of Cal State LA to minimize disruption to their users and go live over Spring Break.
The MyCalStateLA portal and SSO modernization is just phase one of Cal State LA's ongoing commitment to digital transformation, developing equitable systems, and improving the experience of students, staff, and faculty. Compass365 and Butterfly Tech are gearing up to support future phases and the university's vision.
Read more about how Compass365 and partners, Butterfly Tech, worked with the IT staff at Cal State LA to modernize the MyCalStateLA portal and the SSO experience using SharePoint and Microsoft 365.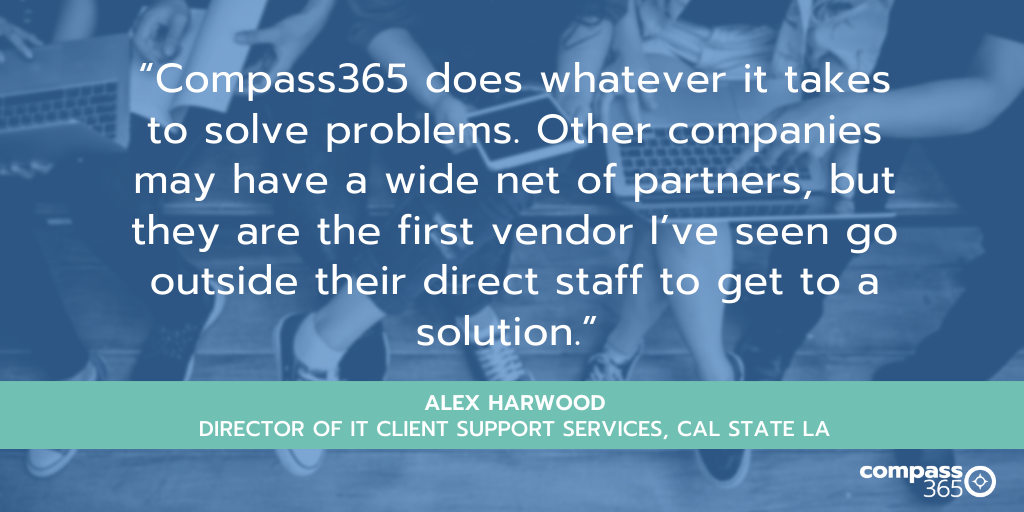 Interested in learning more about Compass365's services?  Happy to help. Please see more on this and all of our Services at Compass365 or reach out directly to Cathy Ashbaugh, cashbaugh@compass365.com to arrange for a complimentary consultation.
Compass365, a Microsoft Gold Partner, delivers SharePoint, Microsoft Teams, and Power Platform solutions that help IT and Business leaders improve the way their organizations operate and how their employees work.